Below are media interviews about Marie Lenay Rogus' book, Grief Comfort Guide: A Personal Journey from Loss to Light with the discussion of grief from the loss of seven of her loved ones.In this memoir Lenay tells stories to celebrate their lives.  
She shares the grief she experienced from the loss of a spouse, a child, a parent and her sisters.  She shares her ten suggestions for comfort – what worked for her, what she liked and didn't like and what helped her the most. She also shares her stories from the years she spent in Hollywood.
They did exist.  They were here.  They Mattered. 
Media One Sheet for Marie Lenay Rogus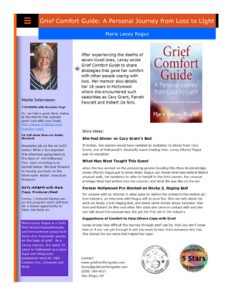 ---
Press Release on
Marie Lenay Rogus