Please Say Their Name
There are so many who are now grieving the loss of  a loved one.  All of the hurricanes, fires and the terrible massacre of so many in Las Vegas and in churches have left a toll. So it touched me deeply to see the beauty in the soul of one man, Greg Zanis, the cross maker who created over 58 crosses.  He put them out in a row to offer solace to those experiencing such unbearable grief.  Each cross had the name of a person who died in the Las Vegas mass shooting.
(Photo by Drew Angerer/Getty Images)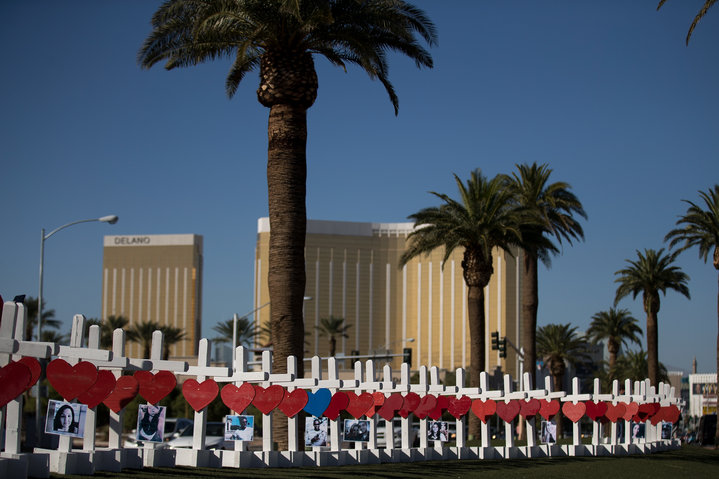 When a friend or acquaintance has lost a loved one we are almost afraid to say their name.  We fear we may be adding to their grief and find ourselves feeling uncomfortable. We don't know what to say or how to make our friend feel better.  More often we say nothing or avoid the person grieving entirely. I've experienced the loss of seven people I loved deeply and I can only tell you how much I love hearing the name of my loved ones. Yes, it can be bittersweet but oh so nice.
How Do We Offer Comfort to Someone Grieving?
The best comfort you can give to someone grieving the loss of a loved one is to tell them you care and you are there for them.  Call them at least once a week in the beginning. Bring a basket of cheese, crackers and wine or something to easily snack on.  Realize they won't be hungry. Listen to them when they want to talk,  but don't give them your beliefs.  Just listen and nod.  Really hear them.  If you are very close, bring a meal for the family or offer to do laundry or watch children.  Your friend is in shock and experiencing terrible waves of grief and they are in a fog and moving on automatic.
The best gift I ever received was a 7-day candle in glass.  I kept it lit and the flame brought me comfort.  I don't know why.  Maybe it somehow felt like the light of my loved one's spirit.
In conclusion
I can only advise you that your friend will want to hear the name of the loved one they lost. That spirit and essence will always be with them.  They say the name in their minds all the time.  It's okay for you to say their name too.  And I know that all of us send our healing thoughts and prayers to those suffering such great loss from these terrible recent events.