Coping with Grief
If you are grieving for a loved one, it can be very hard to get through it and you may not know how or if you can. You may be experiencing guilt and anger. Or you may be mourning the loss of a marriage, job or career.
Please know that you are not alone. I'm Lenay Rogus, the Grief Comfort Expert. I'm also a woman who lost seven loved ones and learned some important lessons which I share in my Grief Comfort Guide. I tell their stories so you can see them as I do and know how losing them affected me and how I came through my loss and grief and healed. Hopefully, something that you read will be of help to you in your grief and give you comfort that you, too, can heal.
"I thought your 10 ways to handle grief an excellent guide. What I really liked about your book is that its person to person and not theory on how to handle grief; it's a layman's guide without all the psychoanalysis.
It's something that the everyday person will be able to understand and relate to and be helped by because its solutions are real world and commonsense. Good for you. And I think everyone will be able to recognize themselves and their feelings in this book. I guess what I'm trying to say is that it's honest."  Madalyn Stone, Editor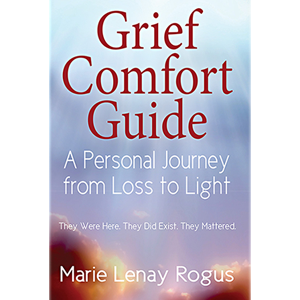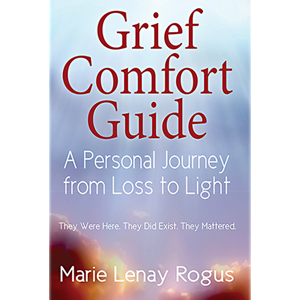 FREE GUILT RELEASE HYPNOSIS
(Coming Soon)
When someone we love dies, the strongest emotions we feel, in addition to grief, are guilt and anger. Guilt stays with us for many years and is the hardest to overcome. "I wasn't there when….," "I promised that I would….," "I was angry and didn't get to say I love you." This hypnosis download allows you to find peace and finally let your guilt go. This is a FREE download (normally $19.95) with my best wishes for your healing. Listen to it anytime. Just fill in your email address below.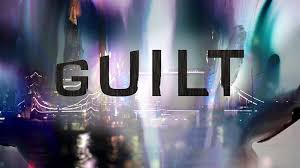 Download Guilt Release MP3
[download id="2039"]