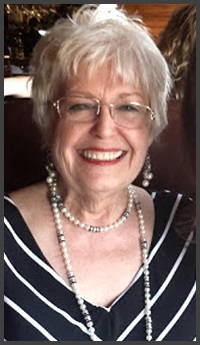 Marie Lenay Rogus worked for many years in the motion picture industry as assistant to writers, directors and producers then as a production office coordinator and a paralegal. She left the industry to become the Vice President of Peripheral Electronics Inc. with her husband, John as the CEO. After the corporation was sold  Lenay became a Certified Clinical Hypnotherapist because she was interested in how the mind worked and it fit in with her metaphysical training. She also taught Hypnobirthing in over 400 classes. However, the paralegal field drew her and she started working in the intellectual property patent area.
She fell in love with performing in the theater during high school. Acting freed her from her early shyness and let her blossom. Lenay trained in acting and opera and performed with a repertory company doing musical comedy for all of the military bases and prisons in southern California. That love of performing is what guided her to learn voice over and narration.
Lenay wrote "Grief Comfort Guide: A Personal Journey from Loss to Light" as a memoir to share how she handled the many losses in her life, from her parents and two sisters to her first husband and eighteen-year-old son. She shares her grief and how she got through the unbearable pain of loss. And most of all, she wanted to celebrate their lives by telling their stories. The book also has comforting meditations. You can hear these guided meditations in the Audible version.
Lenay has a fun hobby as a numerologist. She once was asked to give readings in a casino for New Year's Eve. That was the first time she ever left a casino with more money than when she went in.
Marie Lenay Rogus is a Master Hypnotist/Hypnotherapist, Certified in Clinical Hypnosis since 1995
Board Certified by the American Council of Hypnotist Examiners (ACHE) as a Clinical Hypnotherapist. ACHE certifies for 300 hours of training.
Lenay has been an Indiana State Licensed Hypnotist #38000051A (Indiana was the only state to license Hypnotists until 2010.)
Certified Paralegal
Trained in EFT (Emotional Freedom Technique) through Gary Craig
Certified, Stress Management Consultant
Certified in Hypno-Anesthesia
Neurolinguistic Programming (NLP) trained with Gary Rodriguez for nine months
Certified HypnoBirthing Childbirth Educator (HBCE) since 2000
Doula Training, Member of DONA
Member of National Guild of Hypnotists –
Certified as a Complementary Medical Hypnotist – Trained by Scot Giles, Ph.D.
San Diego Hospice Trained Bereavement Group Facilitator and Caller
Trained as a Professional Stage Hypnotist and Voice Over Actor
Marie Lenay Qualified as a Religious Science Practitioner in 1976 and completed a two-year doctorate-level philosophy Course in Mastery by Michael Valente, Ph.D.