Grief Comfort Guide:
A Personal Journey from Loss to Light
You'll Laugh .. You'll Cry .. Former Hollywood Insider Shares Insights on Movie Personalities and What Grieving Taught Her in this Inspirational Memoir and Guide to Help Cope with Grief
Many memoirs focus beautifully on the passing of one loved but this memoir shows how  Marie Lenay Rogus has written her stories to celebrate the lives of seven loved ones that makes the Grief Comfort Guide an example of how one person can overcome that much grief and still be a symbol of hope and a guiding light to others going through this difficult journey.
She expresses the joy of living in the present as she lovingly shares her own life interconnected with a strong grandmother who lived through the terror of World War I hiding two small children in an outdoor incinerator when the solders came, a mother who was emancipated way before her time and called an angel by her friends and family and a husband, a funny and delightful man, a leading edge engineer who lost his kidney function and career at 42 with two babies to support and she continues with the tales of her teenage son, sisters, nephew and son in law. She then throws in some life after life experiences just to make things more interesting.
Lenay also lightens her stories with her reflections on her eighteen years working in Hollywood interacting with stars like Cary Grant, Mae West, Farrah Fawcett, Stallone, De Niro and others.
She knows grief can be unbearable, that you don't know how or if you can get through it and you want to hear from someone who has so she put together ten suggestions that helped her and offers them to the reader along with some guided imagery to help cope with stress.Marie Lenay Rogus has become an expert in dealing with grief after having lost seven of her loved ones. She wrote this memoir to tell their stories and share her own, including reflections on her eighteen years working in Hollywood and Interactions with stars like Cary Grant and Mae West.Lenay shares how she coped with each loss and offers suggestions of comfort that may help others better handle their own grief. She knows how difficult the journey through grief can be, that you don't know how or if you can get through it, and you want to hear from someone who has.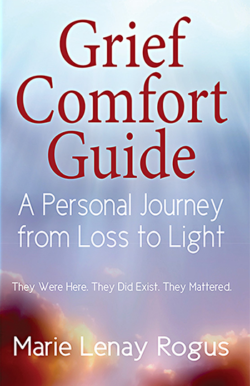 When you read Grief Comfort Guide, you will:
Learn that when you experience the crazies, you are normal.
Find out what you can do when that deep grief wave hits.
Discover coping tips for managing your anger and guilt.
Get advice on how to handle your loved ones' belongings.
Learn what to say when someone tells you to "get over it."
This invaluable book will help you realize you're not alone, and gives you the practical steps you can take to better handle your grief and begin to heal.